Music Therapy, however, focuses on the development of non-musical skills. Musical activities are designed to promote specific cognitive, motor, perceptual, communication and behavioral goals. Musical "talent", "aptitude" and/or "ability" are not prerequisites for being successful.
As a Music Therapist, I believe that all children are capable of engaging in musical activities. I approach each student with a goal of making their first musical experience successful. This is achieved by recognizing that each child has different strengths, weaknesses and learning styles. After reading through your child's IEP, I can gain information to help design musical activities that appropriately match your student's abilities. A Music Therapy assessment is available for students without a current IEP.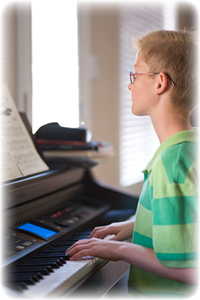 Music Therapy also utilizes a variety of teaching methods. Unlike a traditional music educator, I adapt the music to meet each child's specific needs. For example, some students may be ready to learn traditional note reading; others may require simplified or coded music notation. As students advance, the methods of teaching may change to continue to challenge each child and meet their on-going goals. While not all students will learn to play the piano or guitar, many students will develop proficiency at their instrument of choice.
If you would like further information on how Music Therapy might help your child, please contact Karen at (408) 226-1728 or via email at khookrmt@yahoo.com. I look forward to hearing from you.